Selected Works:
---
News:
March 2023: Check out the trailer and the movie 'Sidelined in Science' ! A short movie about the Science behind roadblocks to women's academic careers in (financial) economics.
The trailer:
The short movie (20 minutes):
…………………………………………………………………
August 2022: our new Swedish House of Finance Women in Finance Database. The website tracks the share of women in the top 100 finance departments of the world (plus the top 50 in the EU).
---
2019: Our paper: "The Labor Market Effects of Credit Market Information" together with Emily Breza and Andres Liberman in the Review of Financial Studies, received the Michael J.Brennan Best Paper Award at the SFS Cavalcade.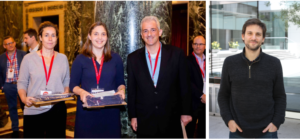 ---
Upcoming Talks, and Discussions:
November 6, 2023: Finance Seminar University of Manheim Business School, Germany.
August 18, 2023: Discussion, at the EFA, VU Amsterdam Business School, "Fintech and Gender Discrimination" Yongqiang Chu, Chunxing Sun, Bohui Zhang, and Daxuan Zhao
June 22, 2023, 14.00: Panel participant at the conference: The playing field in academia: Why are women still underrepresented? The Royal Castle, Concert Hall, Warsaw, Poland.
May 9, 2023, 14.00: Discussion, at CEPR CAFFE Seminar series; "Bank presence and health", Kim Fe Cramer.
April 20-21, 2023: Discussion, at the Adam Smith Workshop in Asset Pricing & Corporate Finance, Saïd Business School, University of Oxford, United Kingdom: "How do borrowers respond to a debt moratorium? Experimental evidence from consumer loans in India" S. Fiorin, J. Hall, M. Kanz
April 2-5, 2023: Discussion, at the Gerzensee Swiss Winter Conference on Financial Intermediation: "Who Pays For Your Rewards? Redistribution in the Credit Card Market" Agarwal, Presbitero, Silva, and Wix.
March 16-18, 2023: Key-Note Presentation at the Midwestern Finance Association Conference, Chicago, USA.
---
Recent Working Papers:
"How Do Acquisitions Affect the Mental Health of Employees?", Coauthors: Laurent Bach Ramin Baghai, and Rui Silva.
Using employer-employee level data linked to individual health records, we document that the incidence of stress, anxiety, depression, psychiatric medication usage, and even suicide increase following acquisitions. These effects are prevalent among employees from both targets and acquirers, in weak as well as in growing, profitable firms. Employees who experience negative career developments within the merging firms, 'blue-collar' workers, and employees with lower cognitive and non-cognitive skills are most affected. A variety of tests address endogeneity concerns, including an analysis exploiting failed mergers. Our findings point to mental illness as a significant non-pecuniary cost of acquisitions.
"The Effects of Diagnosing a Young Adult with a Mental Illness? Evidence from Randomly Assigned Doctors", Coauthors: Andrew Hertzberg and Andres Liberman. NBER Summer Institute Slides
In the developed world, the diagnosis of mental illness is widespread among young adults. This paper estimates the long-term causal effects of being diagnosed during young adulthood for those at the margin of diagnosis. We follow all Swedish men born between 1971 and 1983 matched to administrative panel data on health, labor market, and family outcomes to estimate the impact of a mental illness diagnosis on subsequent outcomes. Exploiting the random assignment of 18-year-old men to doctors, we find that, for people at the margin, a mental illness diagnosis increases the future likelihood of internal death, hospital admittance, being sick from work, and unemployment while also lowering expected income and the propensity to be married or have children. We find that diagnosis increases the use of psychiatric medication in the 36 months right after diagnosis. A possible interpretation of our results is that the amount and type of treatment used for marginal diagnosis may be inadequate, or inappropriate
---
Work in Progress:
"Growing-up in Debt; Intergenerational Transmission of Debt" with Eline Molin, Erik Plug, Paula Roth, and Kasper Roszbach
"Debt Relief and Children's Outcomes: Measuring the Effect of Personal Debt Relief Programs" with Eline Molin, Erik Plug, Paula Roth, and Kasper Roszbach
"Dissemination of Research" Evidence from Quasi-Random Conference Slots", Coauthors Renee Adams and Laurent Bach
"Inflation Literacy and Consumer Choice: Evidence from an RCT with Bank Customers, Coauthors Arna Olafsson, Enrichetta Ravina, and Basit Zafar.
"The Price of Love" Coauthors: Wenli Li and Jenny Säve-Söderbergh
The project aims to analyze the financial consequences of the interaction between labor market participation, family formation, income, and savings over the lifecycle, exploiting differences between cohorts and marital status in the possibility to share their pension savings with one's spouse pre- and post-death.
"Loneliness, Alzheimer and Financial Distress" with Andrew Herzberg and Johan Orrenius